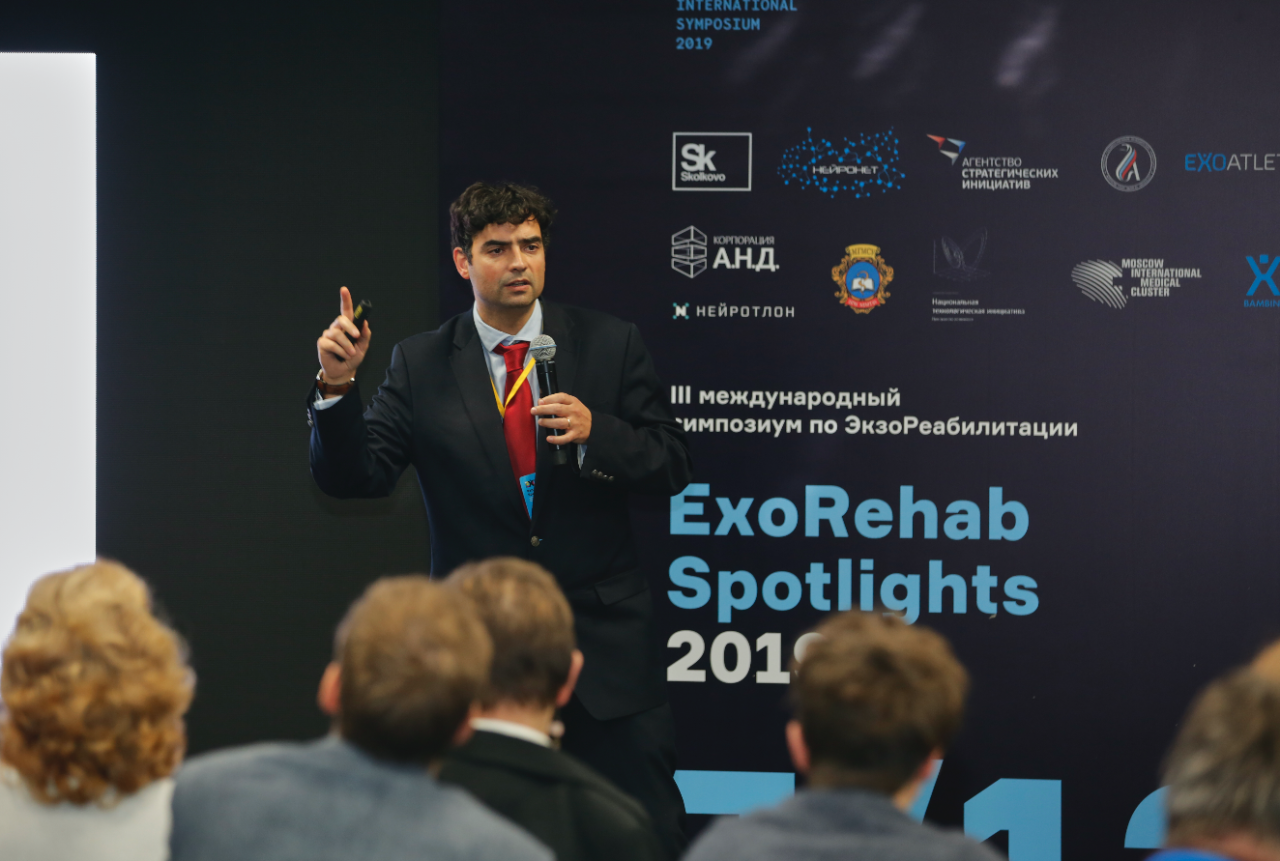 EXOATLET JOINS THE INTERNATIONAL CONSORTIUM ON EXOREHABILITATION
International company ExoAtlet, a developer of medical exoskeletons, takes part in the global project on ExoRehabilitation, which reunites the researchers and hospitals from Portugal and Brazil, reports the Portugal radio station Renascença.
The international group of researchers under the direction of Dr. Miguel Pais-Vieira, Ph.D. from the Institute of Medical Sciences of the Católica University Porto develops an innovative project: the exoskeleton, which is directly controlled by the user's brain activity. This technique is complemented by virtual reality and tactile and thermal feedback.

The Portugal Research Center for Science and Technology of the Arts (CITAR), the University of Minho, Guimaraes and Braga hospitals; from the Brazilian side- the Federal University of Rio Grande do Norte and the Santos Dumont Institute take part in this project.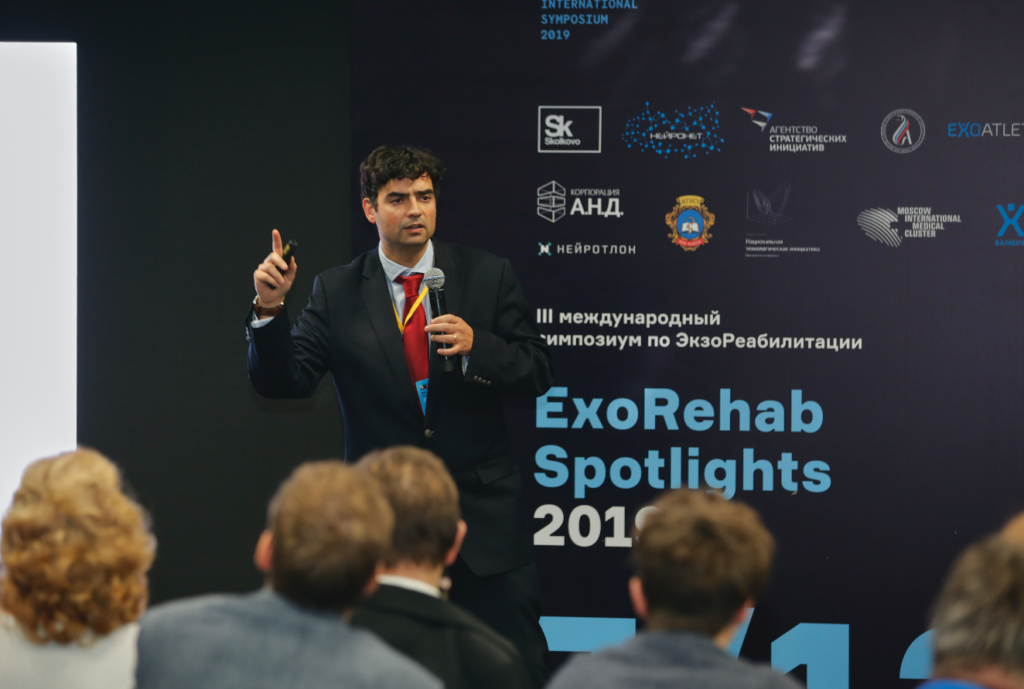 "We create the interface brain computer for the rehabilitation of the patients with spinal injuries, – stated PhD Pais-Vieira. – All signals, which are measured from the brain, are activated in this research; virtual reality, trainings with the exoskeleton, psychological assessment, and also tactile and thermal feedback."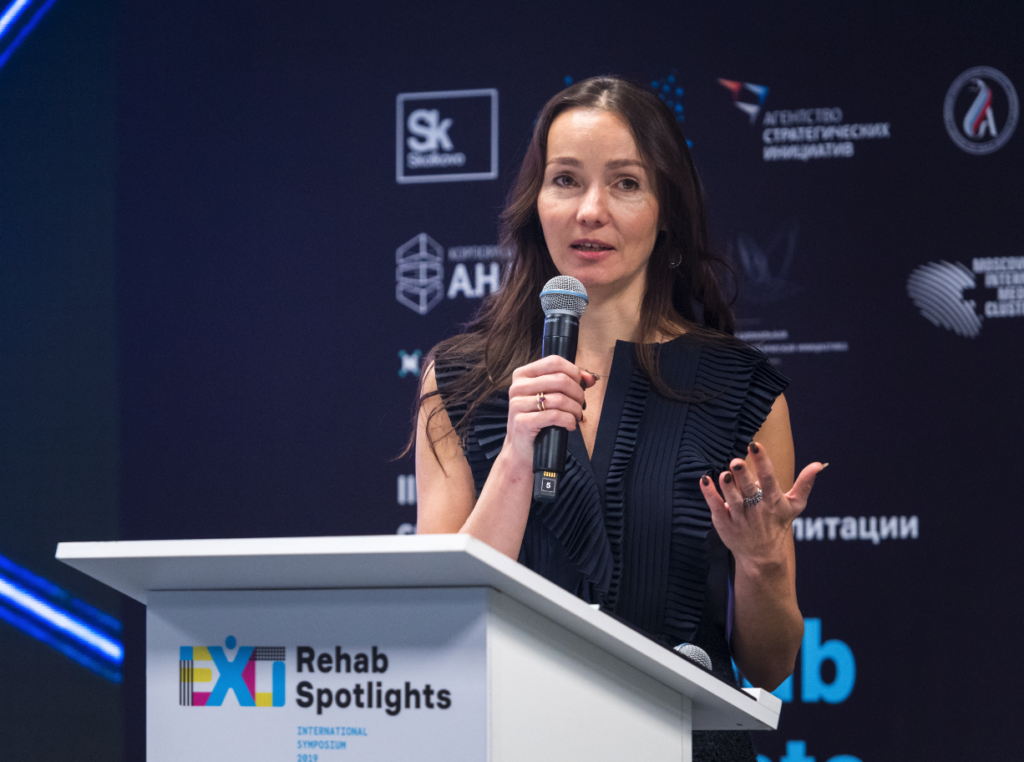 In December 2019, ExoAtlet held its third annual ExoRehab Spotlights symposium at the Skolkovo Innovation Center, where ExoAtelt's first exoskeletons for children Bambini Mini and Midi were presented to the audience. The scientific part of the program was attended by prestigious international experts, including Dr. Pais Vieira, who spoke about his project and made a review report on the developments of European scientists in the field of neurorehabilitation.
By the time of the ExoRehab symposium, ExoAtlet had already established productive cooperation with Portuguese researchers. Part of this collaboration was ExoAtlet's training for a Portuguese scientist working with an exoskeleton.

"Miguel was trained to be an operator of an exoskeleton, assemble and disassemble it", says Ekaterina Bereziy After the training he returned to Portugal, fully equipped with new knowledge and with an exoskeleton,. Summing up the brief experience of working with ExoAtlet, dr. Pais-Vieira said: "ExoAtlet does everything it promises. And overcomes all the difficulties that arise. "
According to Ekaterina Bereziy, difficulties arose at different stages. "As for the fact that, yes, we promised to conduct the training and conducted it. We promised to give an exoskeleton and we kept our promise".
The work of the Portuguese-Brazilian group is planned to go on for three years, although Dr. Pais-Vieira does not exclude that, if positive results are obtained, the study's duration can be extended.
Meanwhile, the ExoAtlet company and the Miguel Pais-Vieira's group have another plan. They intend to take part in the upcoming Cybathlon 2020, an international sports competition for disabled athletes. One of the disciplines of the competition is the exoskeleton race. ExoAtlet is going to exhibit three teams there: its own, as well as its partners from South Korea and Portugal. The uniqueness of the situation is that Cybathlon involves technology competition which is unique of such kind.