It All Begins with The First Step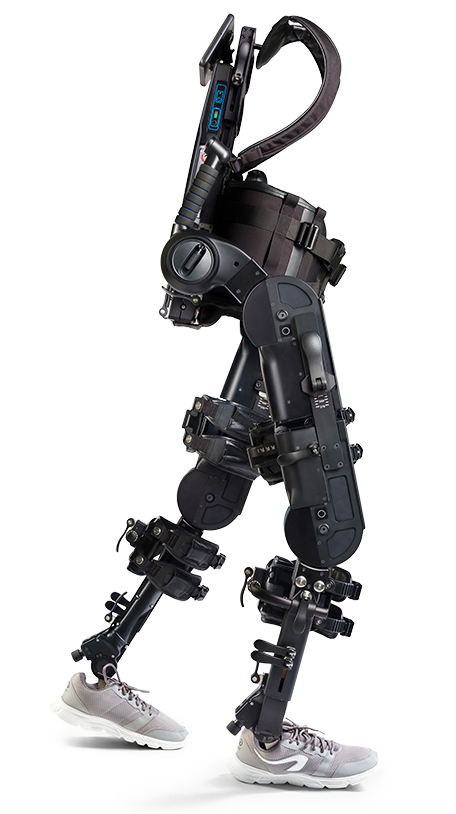 Key features
Requirements:
the patient's weight should not exceed 100 kg 

the patient's height should not be less than 160 cm and not more than 190 cm

Natural gait pattern with heel to toe foot roll
Tailor the walking pattern to your patient's needs
12-channel myostimulation of the spinal cord that activates locomotor neurons; electrical muscle stimulation timed with the appropriate phases of walking.
Detection
4 actuators and corresponding software provide high degree of customization to ensure natural gait patterns.
Control methods:
— Smart crutch for patients.
— Tablet for medical staff or assistants.
— Operated by an assistant or therapist.
Expanded control system features:
pressure measurement sensors that initiate movement by responding to the patient;

adaptive support of motor function according to patient's performance.
Other:
up to 5 hours of continuous walking on a single charge;

cloud service for storage/planning and training sessions management;

spasticity protection unit.
Cloud service
Stores session data for therapists to analyse and allows them to plan future sessions
up to 100 kg
weight of the patient
up to 5 hours
continuous walking
160-190 cm
height of the patient
Safety and efficacy
Gait training with exoskeletons is a new trend in ExoRehabilitation of patients with locomotor disorders all over the world.
The results of Russian clinical trials show that treatment with ExoAtlet presents no safety or efficacy concerns.
Rehabilitation increases muscle strength and stamina, improves stability and functional balance, reduces spasticity, normalizes blood pressure, aids digestion and urination. The patients' psychological state goes through notably positive changes: thanks to the social aspect of rehabilitation the level of depression is reduced, they feel more self-assured about the future and realize that they are not limited by their condition. For example, the level of depression is reduced.


Certification

The device is certified in Russia, South Korea, India, Vietnam and Kazakhstan.
CE Mark and ISO:13485 certified, pending FDA market clearance.









Find our devices
44 clinics in Russia
10 hospitals in South Korea

1 clinic in Kazakhstan